How to play bingo game online? – Bingo Rules
Bingo is undeniably a star of internet gambling. Its popularity increases by the day, followed by a boom of new online players. Another great thing about bingo going online is that now we can try, in the same place, variants that would be an ocean apart in more analogic days. Because of the myriad of options that you'll face on a bingo site, it can be useful to read our guide on how to play bingo game online. Would you rather play the British way or the American way? What about playing with three cards at the same time?
We are the SmartBingoGuide, and our mission is to provide you with top quality information about your favourite games, so you can have a more educated and fun time. Follow our team of specialists as we guide you through the similarities and differences of this ancient game and make sure you won't miss a thing about it!
People are asking these questions
Yes, there's plenty of bingo varieties out there, but everybody knows the basics of how bingo works. Chances are you've even had one of those home versions when you were a kid. You can either play a 90-ball game or a 75-ball game. There are extra combinations, apart from the full house. Those combinations can also vary according to the kind of game you're playing. If you're playing it online, the RTP of both styles is different too. Here is the VIDEO How to play bingo game online.
Difference between UK and US bingo❓
Some simple bingo rules will never change. There's a card with numbers, numbered balls, and a caller to announce them. All the rest is open for modifications. There are some key differences between the American and the British styles, namely the cards' format and the number of balls. 
American bingo uses 75 balls and cards with 25 slots, on a square 5×5, with the letters B-I-N-G-O, disposed of horizontally and vertically. The central square is always blank, leaving 24 numbers to daub away.
British bingo uses 90 balls, disposed of on a card with three rows and nine columns, totalling 27 slots, with 12 blank slots.

Both styles have additional prizes for lines, two lines, and four corners, although each country has its variants of the game.

Windfalls are typical of UK bingo, while U-Pick' Em and Double Action are more popular in America.
Anyway, all those variants are available on online bingo new sites, so you don't have to cross the ocean to enjoy the best of both. If you want to know more about both styles, you can find plenty of tutorials searching for keywords like American bingo game rules or British rules for bingo game.
How many numbers are in bingo❓
There are different games of Bingo, so it depends on the kind of Bingo you're playing. The 90-ball games and the 75-ball games are some of the most common. The game's RTP varies according to the kind of game: RTP in 90-ball games are 80% on average, while the 75-ball modality ranges between 70% and 85%. 
The British game uses 90 numbers, while the American uses 75. While the American cards have 24 markable numbers, the British ones have 15 markable numbers.
Where to play bingo online❓
There are countless websites to play bingo online! You can even play from your phone, with bingo mobile websites and apps. Every bingo online UK must be certified by the Gambling Commission to ensure fairness and safety to all players. Thanks to better regulations and fast-evolving technology, there's no shortage of bingo games for money online. It's always wise to browse for a bingo sign up bonus because new sites are always desperately trying to bring new people in.
How many bingo cards are there❓
There are two types of cards: the American (5×5 grid) and the British (9×3 grid). While the American game uses 75 balls, the British uses 90 balls. If you want to know how many individual cards there are, get ready for some long numerals. When Edward Lowe hired a mathematician back in the 1930s, he asked for 6,000 unique tickets. But that's a modest number. The possibilities amount to the order of 552,446,474,061,128,648,601,600,000, or somewhere around 552 septillion different combinations.  
Some historians defend that bingo's first game took place in Italy in 1530, as a lottery called Il Gioco del Lotto d'Italia. Soon, it became popular among the French aristocracy and, consequently, among the English people. 
Making Bingo Rules Simple
The Name
Many things have changed since the first Gioco di Lotto, from 1550s Italy. The game, once called beano, became famous with the name of bingo, although there are other names to it. In Britain, it was commonly called tombola or housey-housey until the 1960s. In India, it was known as tambola, while in Quebec, it is known as kinzo. According to researchers, the game was called beano because beans were used to mark the numbers. It was called that in the US until, in one of Edward Lowe's beano sessions, someone shouted bingo by mistake, and the name stuck. This story may be anecdotal, but Mr Lowe played, in fact, a vital role in the popularization of both the game and the name.
Simple Bingo Rules and Instructions
If your are interested of how to play bingo game online? Good news. The rules of Bingo remain simple, despite some increments here and there. It still doesn't require any particular skill, as you only have to wait until the caller shouts all your lucky numbers. The new rules deal with different prizes and payouts. Apart from the full house, you can also get money for completed lines or specific patterns. There are also a few options for jackpot modalities. Since the advent of internet bingo, some concepts like RTP (return to player) and house edge became clearer and fairer, yet many players overlook them. In this section, you'll get acquainted with the old and new rules for bingo game, as well as its basic vocabulary.
Bingo How to Play Terminology
Caller: Is the house employee in charge of shouting the numbers.
Ticket or card: It's where the player's numbers are written.
Bingo board: it's the panel which displays the numbers already called.
Full house or coverall: It's when all numbers of a player's card are called.
Lines and patterns: In some modalities, there are smaller prizes for lines or patterns.
Prize pot: It's the sum of all bets in a round.
RTP (return to player): It's how much the house has to pay you back from your bets over some time.
House edge: It's regarding the percentage of all bets that will stay with the House. It's calculated in opposition to the RTP. For example, if RTP is 80%, the House Edge will be 20%.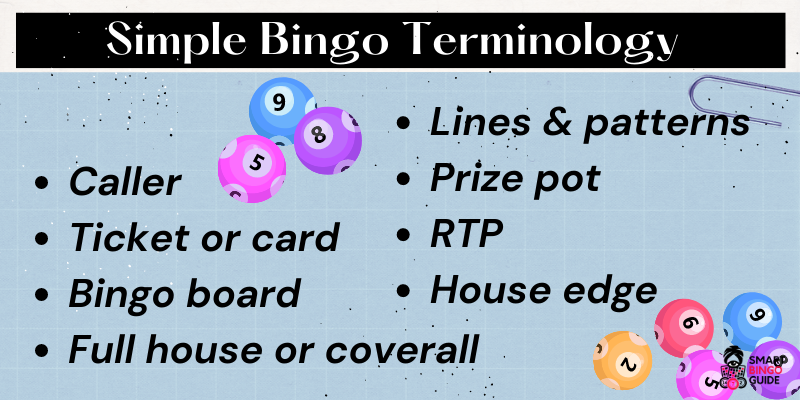 The American Bingo Game Instructions
Quick History of Bingo in America
The game of beano became popular in America in the 1920s. It was mostly thanks to the entrepreneurship of a salesman called Edward S. Lowe. His first contact with the Italian-born game was during a carnival while he was travelling through Georgia. Back home, in New York, Edward decided to improvise this lotto-like game he was introduced to in Georgia and invited his friends along to try it.
It didn't take long for Edward to realize the enormous potential of the game. In 1930, he hired a mathematician to create thousands of different combinations for cards with a certain number of slots. Additionally, he ordered the confection of several numeric cards. The old adage, "the house always wins," remains true in this game, and it was quickly noticed by fundraisers, fraternities, churches, and so on. It was such a hit that soon a home version of the game was created, with instant success.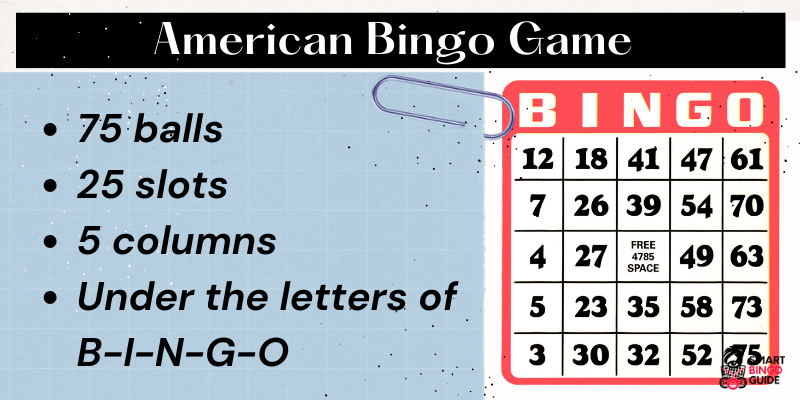 The American Way
How to play bingo game in the United States? It's played using 75 balls. The player's card has 25 slots, divided into five vertical columns, under the letters of B-I-N-G-O. The central slot is always left blank. The numbers are spread across those columns, as it appears below:
B: From 1 to 15

I: From 16 to 30

N: From 31 to 45

G: From 46 to 60

O: From 61 to 75
While bingo game rules remained simple in the New World, there are some variations that are typically American. For instance, in U-Pick' Em bingo, you get three cards of 25 slots each and have to decide where to mark the called numbers. Double-action cards are another example, with two numbers per slot. Winning patterns include:
Rovering L: Where the vertical B and the horizontal O columns are filled.
Postage Stamp: When a square 2×2 is filled on the top right part of the card.
Blackout: Covers 24 numbers and free spaces.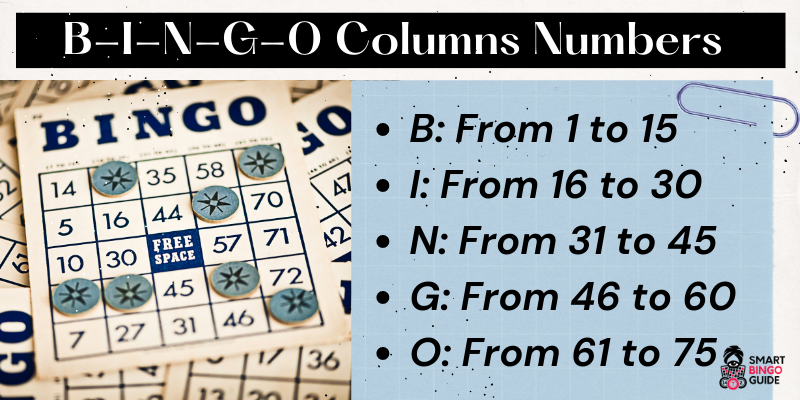 How to Play British Bingo
Quick History of Bingo in the UK
Bingo's origins in the UK can be traced far back to Elizabethan times, with the first lotteries in the sixteenth century. It has survived different dynasties, the Puritans, and many more wars than a pacifist would like to count. Originally, it was a game for wealthy people, although gambling was common among the populace. However, the first game, which more closely resembled it, was organized and played by working women in 1716. During the First World War, while the British government tried to suppress gambling in society, it also authorized gambling in the armed forces to raise funds for the war effort.
In 2005, the Gambling Commission regulated online gambling, establishing a legal frame for how to play bingo online as well. The number of bingo casino online have been increasing noticeably ever since.
The British Way
How to play bingo game in the UK? Bingo is played with 90 balls. A British bingo card contains 27 numbers, organized in nine columns and three rows. In addition to the full house, other combinations are also rewarded, such as the "four corners", "lines", and "two lines".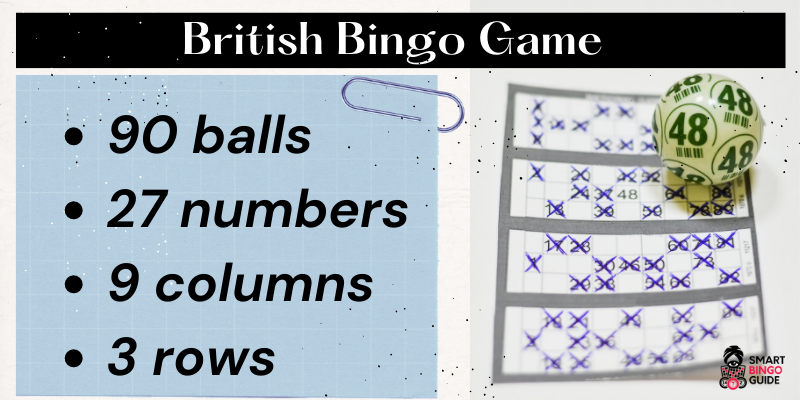 Four corners is when you daub away the numbers on the exact corners of your card. There are also rewards for one or two completed lines. Here, luck will favour the most focused since you must stop the game when your last number is called. Otherwise, your claim can be nulled. In land-based bingo, a "dabber" or "dauber" (a special marker) is used to cross the numbers on the card.
Windfalls – How to Play Bingo Game
A windfall is a special moment in any bingo session. It happens when the house offers special prizes above the fixed ones for special hits or combinations. Most bingo games rules offer windfalls during the game, although their frequency may vary from one to another. Here are some of those "special situations":
Bull's eye: Shout out on the fiftieth number and win a £50.
Lucky stars: In this style, you'll receive a number from 1 to 90, which will be your lucky star. Call the house on your lucky star, and you can win up to £2,000.
Double bubble: Win double the full house prize for calling the house on doubled numbers, like 11, 22, 33, 44, etc.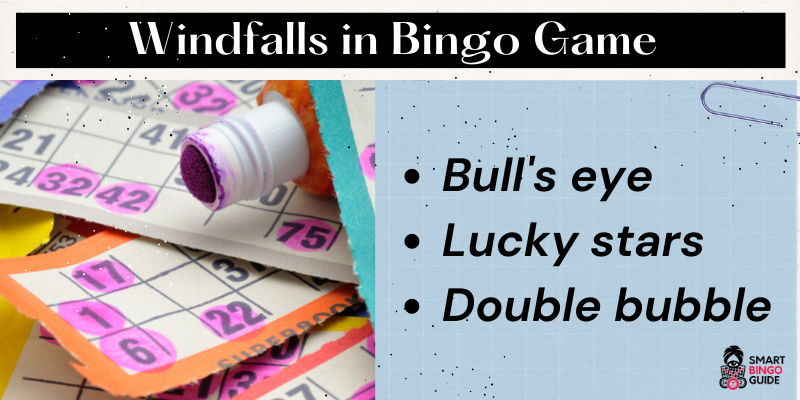 Rules for Bingo Games – UK vs US
Differences
Cards and balls are different in both games. In the UK, the traditional bingo is played with 90 balls on 27-slot cards.
Each country added special features to the game, creating unique variants, special prizes, and different jackpot bingo rules and regulations. If you're not yet acquainted with those differences, have a look at the American (or British) bingo game how to play.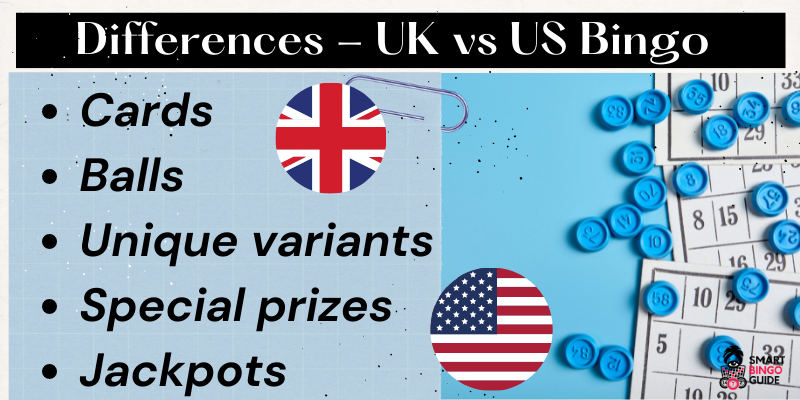 Similarities
Despite all differences, both games are still bingo, of course. The games' dynamics are pretty much the same, with callers and their catchy phrases, numbered balls, and daubed cards. There are some traditional side prizes paid in both rules, like four corners, line, and two lines.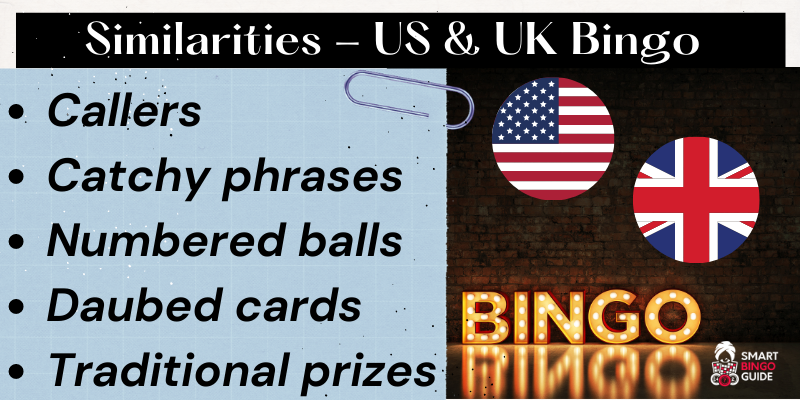 Conclusion of How to Play Bingo Game
The internet surely helped to make local bingo rules international. Almost every bingo site will have bingo's traditional modalities, plus some new ones, like bingo Deal or No Deal. Because of the proliferation of free bingo no deposits and bingo deposit 5 pound sites, today it's possible to try whatever kind of bingo you want inexpensively. So, if you really want to know how to play bingo online, now you have no excuses to not go there and try it yourself!